Apple Cider Vinegar Capsules - 100% Natural
Regular price

Sale price

$20.00
Helps With:
Increasing Digestion | Reducing Bloating | Regulating Appetite
 Neat's Apple Cider Vinegar (ACV) Supplement takes all the effort and taste out of this highly beneficial routine, by concentrating ACV and making it available in a handy wee vegan-friendly capsule!
Ingredients

These capsules contain 100% Apple Cider Vinegar (Mother included) that has been powdered and concentrated. 1 Capsule is equivalent to 3 teaspoons of liquid vinegar. (Other ingredients: Magnesium Stearate, Vege Capsule)

There is the equivalent of 50mg acetic acid per capsule. Each bottle contains 60 pills.

Disclaimer: These statements have not been evaluated by any medical authority, and are for educational purposes only. This product is not a medicine, and is not intended to diagnose, treat, cure or prevent any disease. Always read the label and take only as directed. If symptoms persist or you have side effects see you healthcare professional. If you are on medication or suffer any major health concerns, review the product with your doctor first.

Dietary Supplements are not a replacement for a healthy diet and active lifestyle. Any supplements should be taken alongside a healthy lifestyle, and any illness or injury should be discussed with your doctor for diagnosis and treatment.
Shipping Information

New Zealand shipping is FREE when you spend over $100, otherwise it is just $8.50 for a flat rate nationwide tracked courier.
Share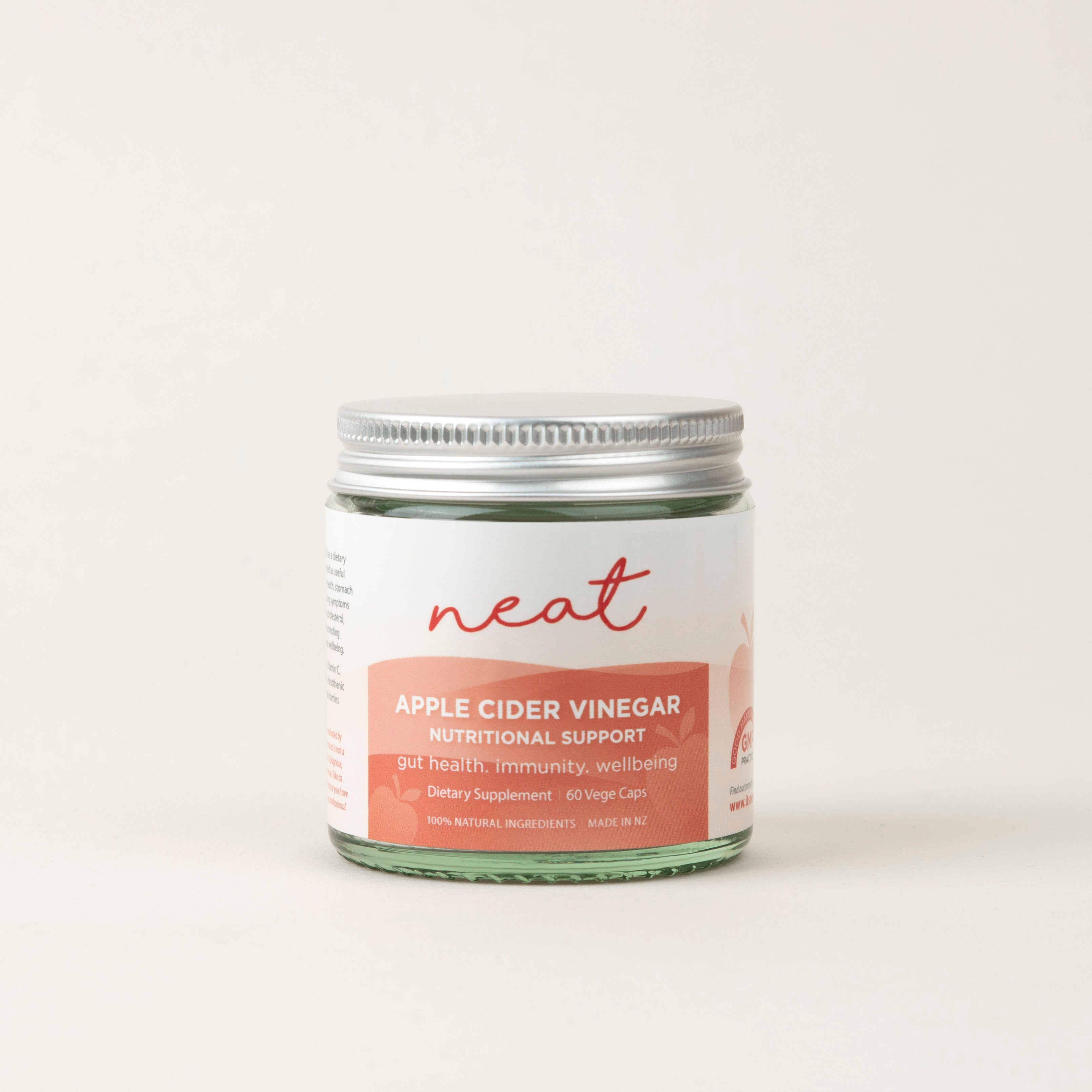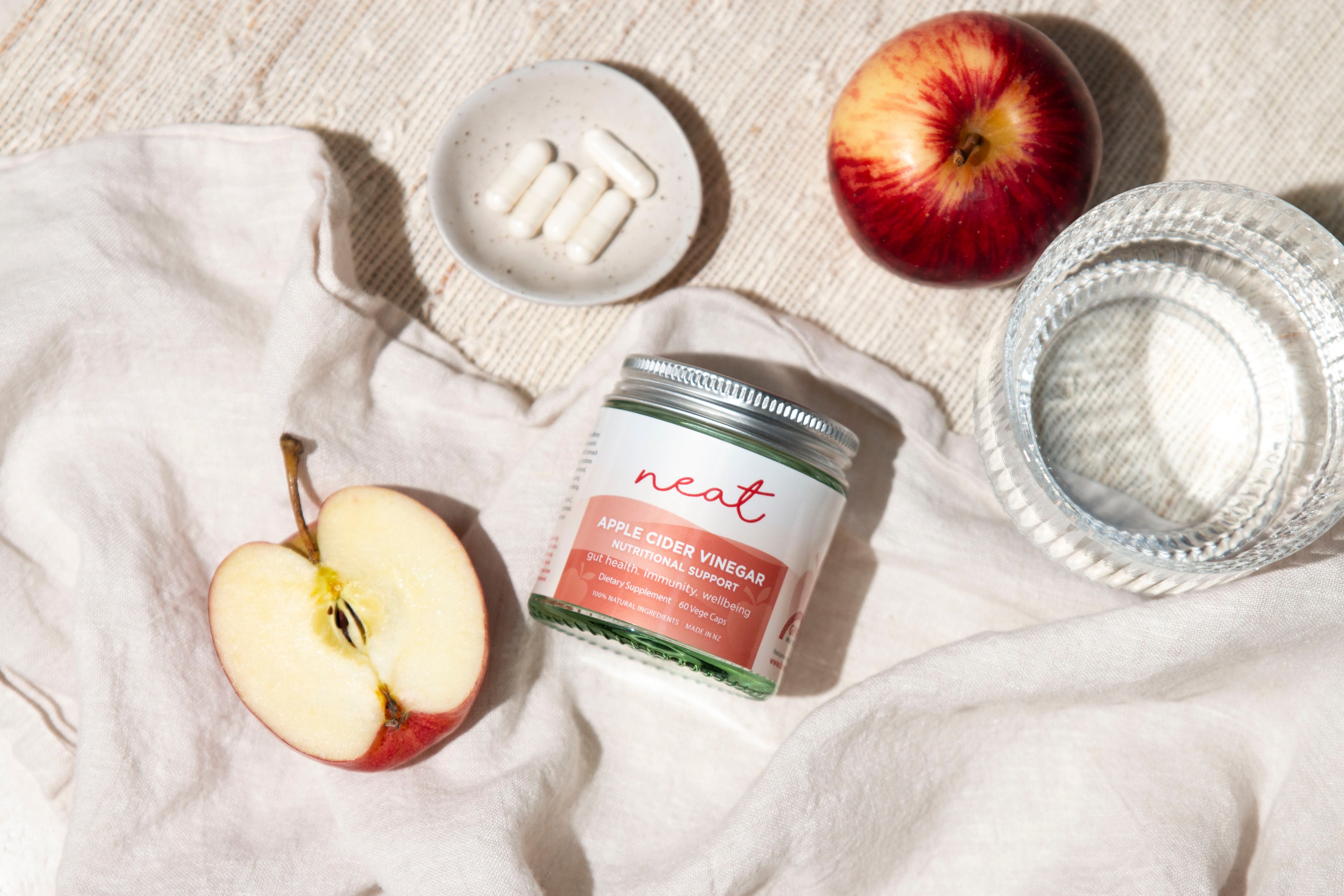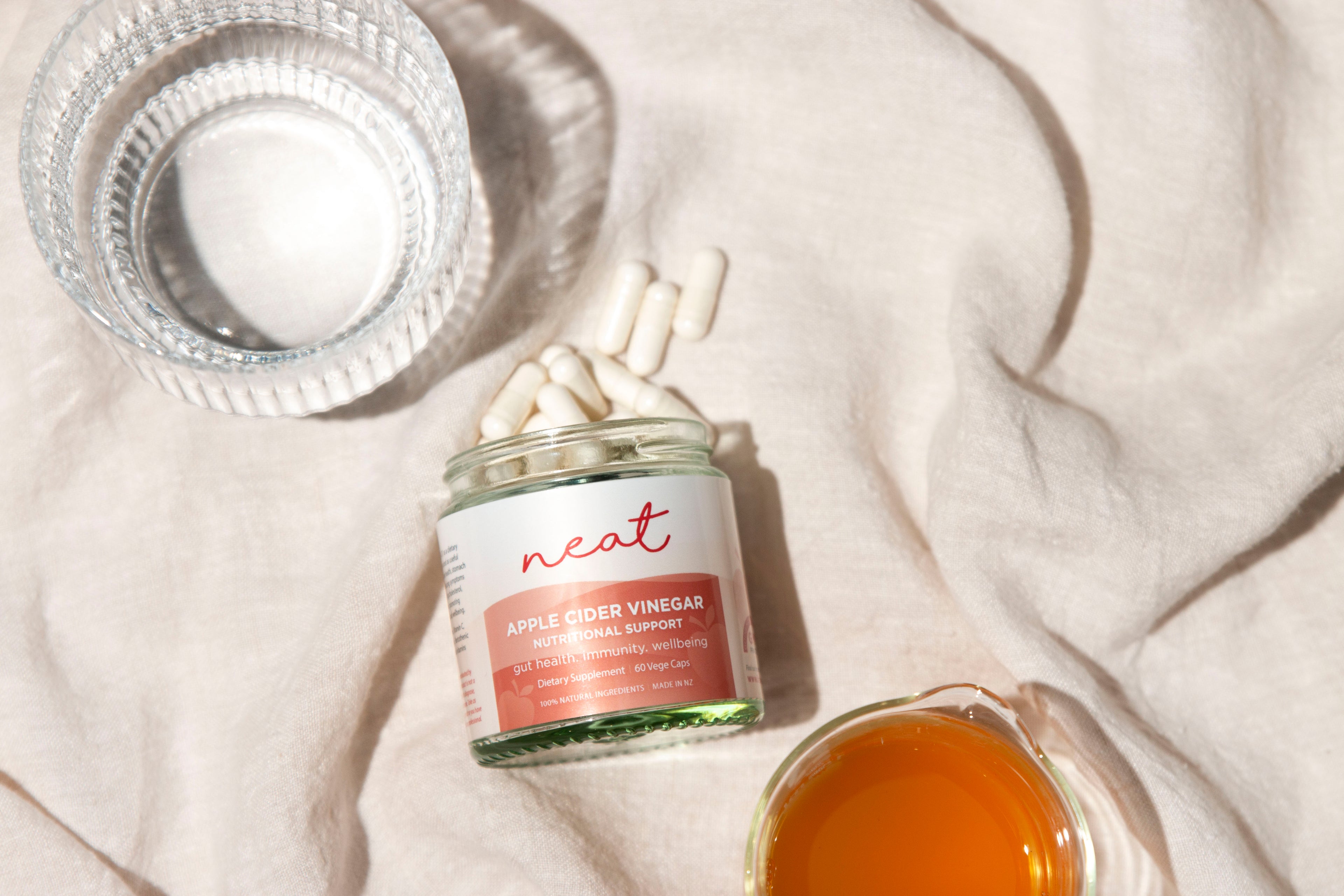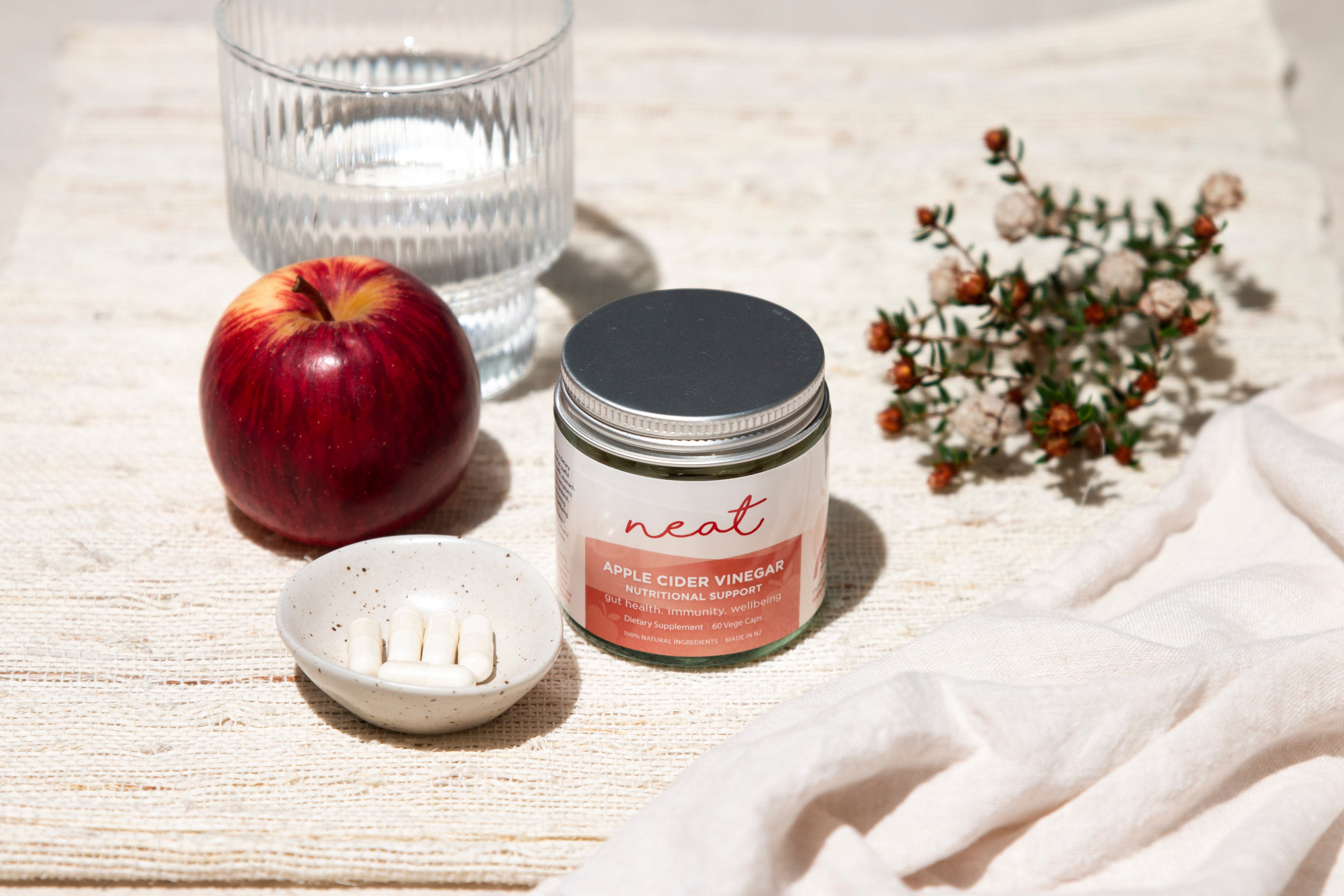 Apple Cider Vinegar Without The Nasties
Want to know what's in our Apple Cider Vinegar Capsules? Just Apple Cider Vinegar! No sugar, no carbs, and no gelatin. Our high-quality dietary supplements make it easy, efficient, and affordable for you to take care of your body.

For general health and wellbeing take 1-2 capsules throughout the day with water. For weight management, you would take 1 capsule right before your main meal every day.
Apple Cider Vinegar - The Digestive Wizard
Apple cider vinegar is one of the most talked-about health foods of the last few years. Touted for it's digestive wizardry, and becoming a staple of many folks morning routine - Apple Cider Vinegar has been used in cooking for centuries, however more people are now experiencing the benefits as a health supplement particularly for weight management, arthritis and diabetes benefits.

Rich in vitamins and Minerals, ACV contains vitamins B1, B2, and B6; biotin, folic acid, pantothenic acid, & vitamin C. Along with the minerals sodium, phosphorous, potassium, calcium, iron, and magnesium. Apple cider vinegar also contains quantities of acetic acid and citric acid. The potential benefits of adding this supplement to your daily diet are vast, including things such as reduced bloating and gas, improved digestion and bowel motion, regulation of appetite, regulated blood sugars, lower cholesterol, improved heart health, stronger bones and arthritic pain reduction. ACV can help detoxify your body by breaking down proteins and carbohydrates from your food, giving your body the best chance at functioning at the optimum level.
Buy Now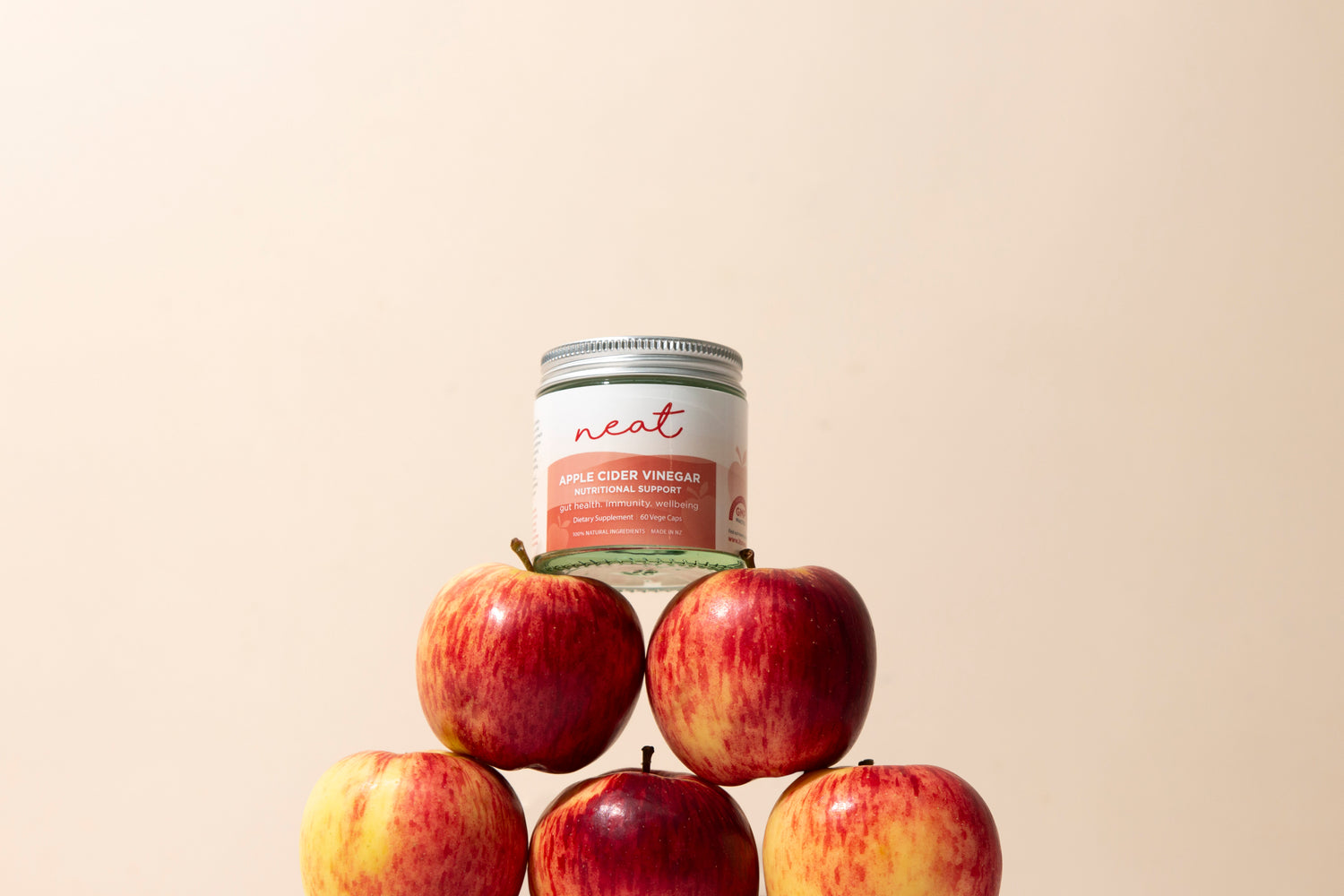 Apple Cider Vinegar for Weight Management
Many studies into apple cider vinegar and weight management indicate that it can help you feel fuller when taken right before meals. One study revealed that people who took apple cider vinegar along with high-carb meals end up eating 200 to 300 fewer calories per day than people who didn't. That reduced daily calorie intake translated to significant weight loss over time. ACV deters the body from turning sugars into fat, and can help with weight management by reducing insulin levels after a carb-heavy meal.
Buy Now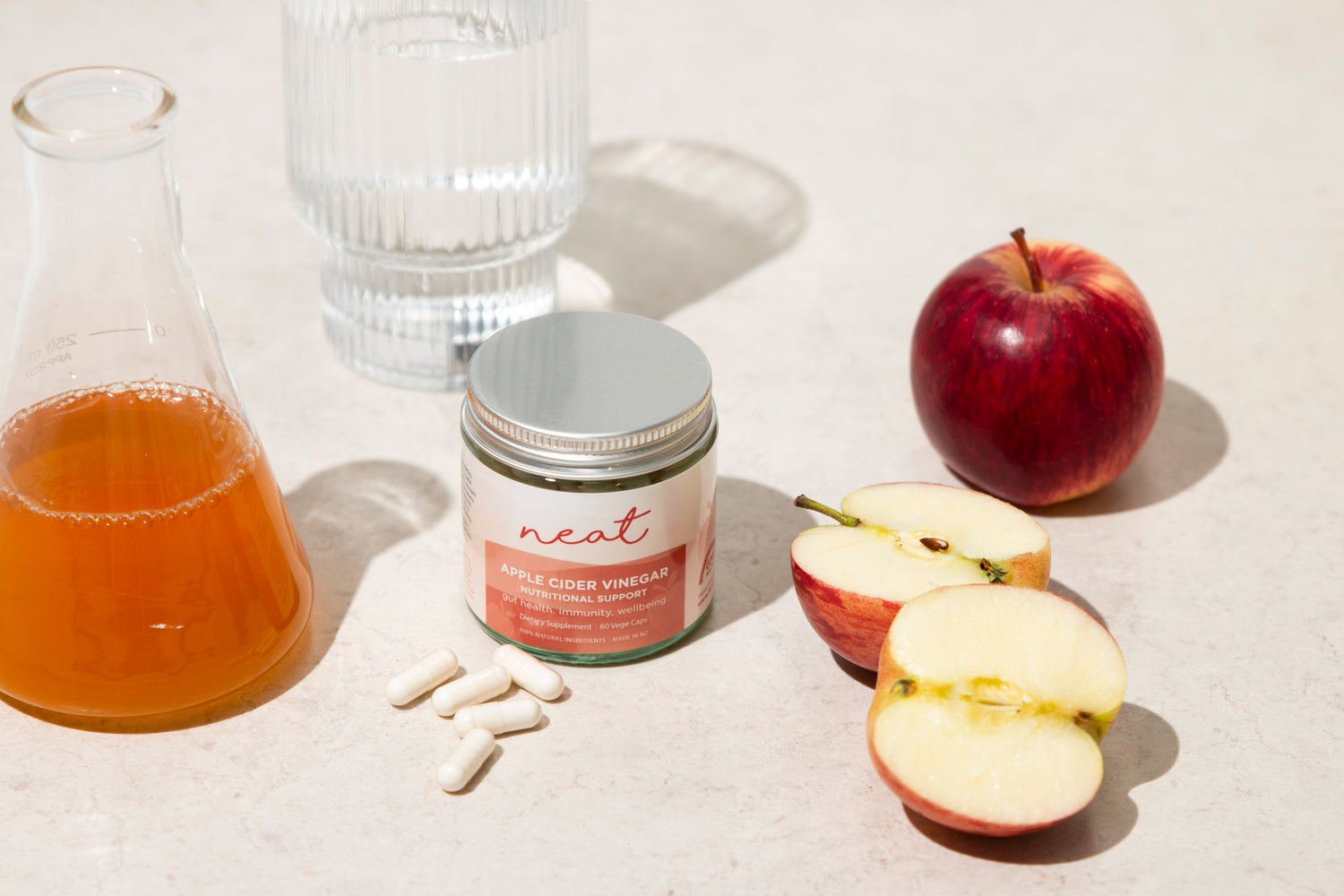 Why Switch to ACV Capsules?
The main reason people take capsules over liquid is because its more convenient especially when travelling, and doesn't have a horrible taste. It's easier to take it with each meal, no matter where you are as well, rather than just at breakfast time when at home.

What many people don't know is prolonged consumption of liquid vinegar will cause the teeth enamel to dissolve, due to its high acid content, which is not the case with a capsule. You are also getting a good dosage per capsule with 3 teaspoons equivalent liquid ACV, which is generally more than most people would stomach of the liquid variety.
Buy Now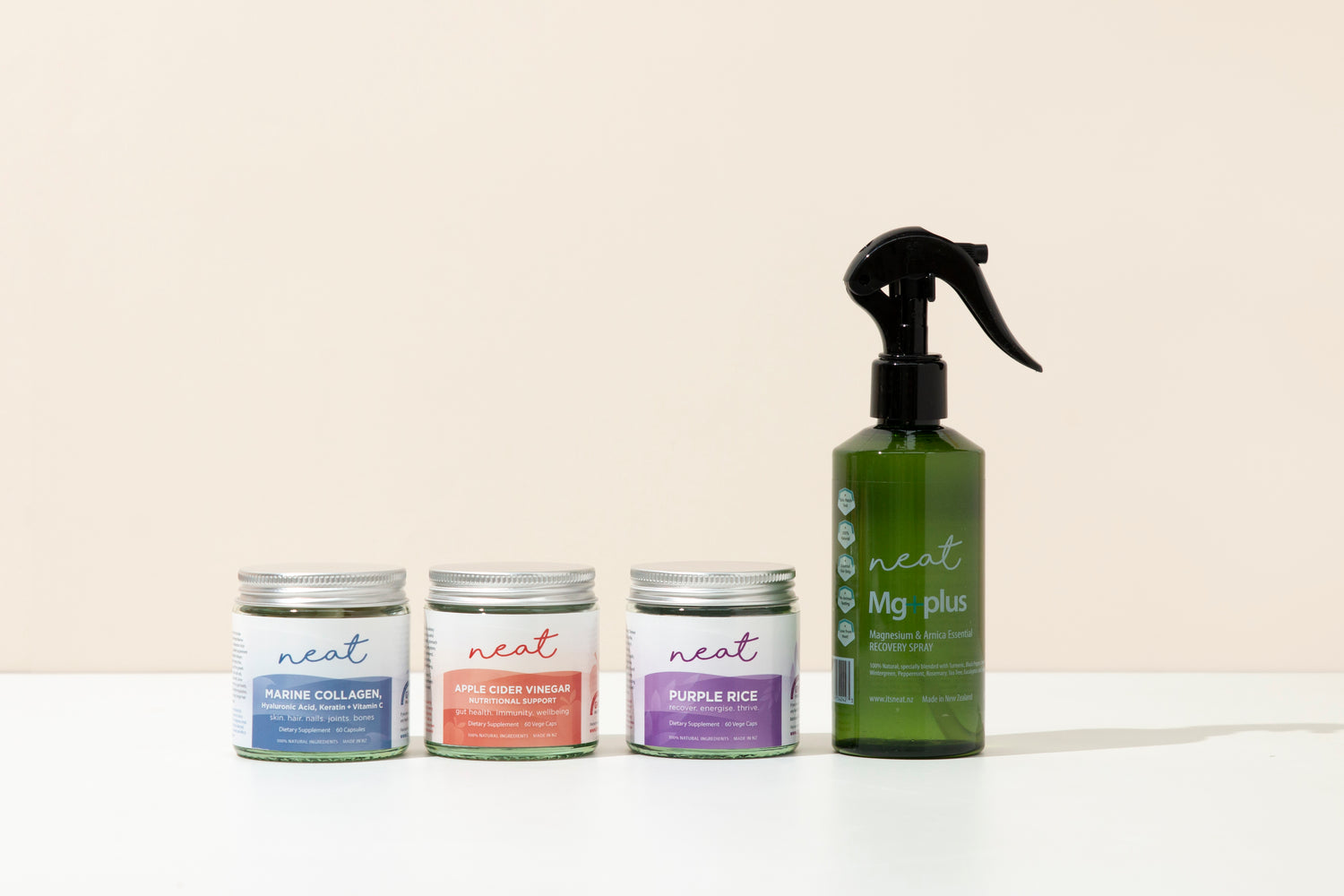 Quick view

Micronised Purple Rice Capsules - 100% Natural

Regular price

Sale price

$20.00
Quick view

Mg+Plus Magnesium and Arnica Recovery Spray - 100% Natural

Regular price

$15.00 $55.00

Regular price

Sale price

$15.00 $55.00
Quick view

Marine Collagen, Hyaluronic Acid, Keratin and Vitamin C Supplement - 100% Natural

Regular price

Sale price

$32.00
Quick view

Apple Cider Vinegar Capsules - 100% Natural

Regular price

Sale price

$20.00
LIKE A FINE WINE
Pairs Well With