Revolutionary Shower and Shaving Oil - 100% Natural
Regular price

Sale price

$12.00
Helps With:
Prevent Razor Rash | Reduce Red Bumps | Moisturises Skin
NEAT IS REVOLUTIONISING THE WAY YOU SHAVE!! New Zealand's first-ever shower & shaving oil will leave you beautifully moisturised immediately after shaving, and ensures the razor glides over the skin with ease while also preventing red rashes & bumps along the way.
Ingredients

Prunus amygdalus dulcis (Sweet Almond oil), Simmondsia chinensis (Jojoba Oil, Golden, Organic), Carthamus tinctorius (Safflower oil, cold-pressed, organic), Calendula officinalis (Calendula infused oil), Sunflower Seed Oil (Helianthus Annuus), Caryodendron orinocense (Organic Cacay Oil), Tocopherols (Vitamin E, Antioxidant), Citrus sinensis (Sweet Orange essential oil, organic)
Shipping Information

New Zealand shipping is FREE when you spend over $100, otherwise it is just $8.50 for a flat rate nationwide tracked courier.
Share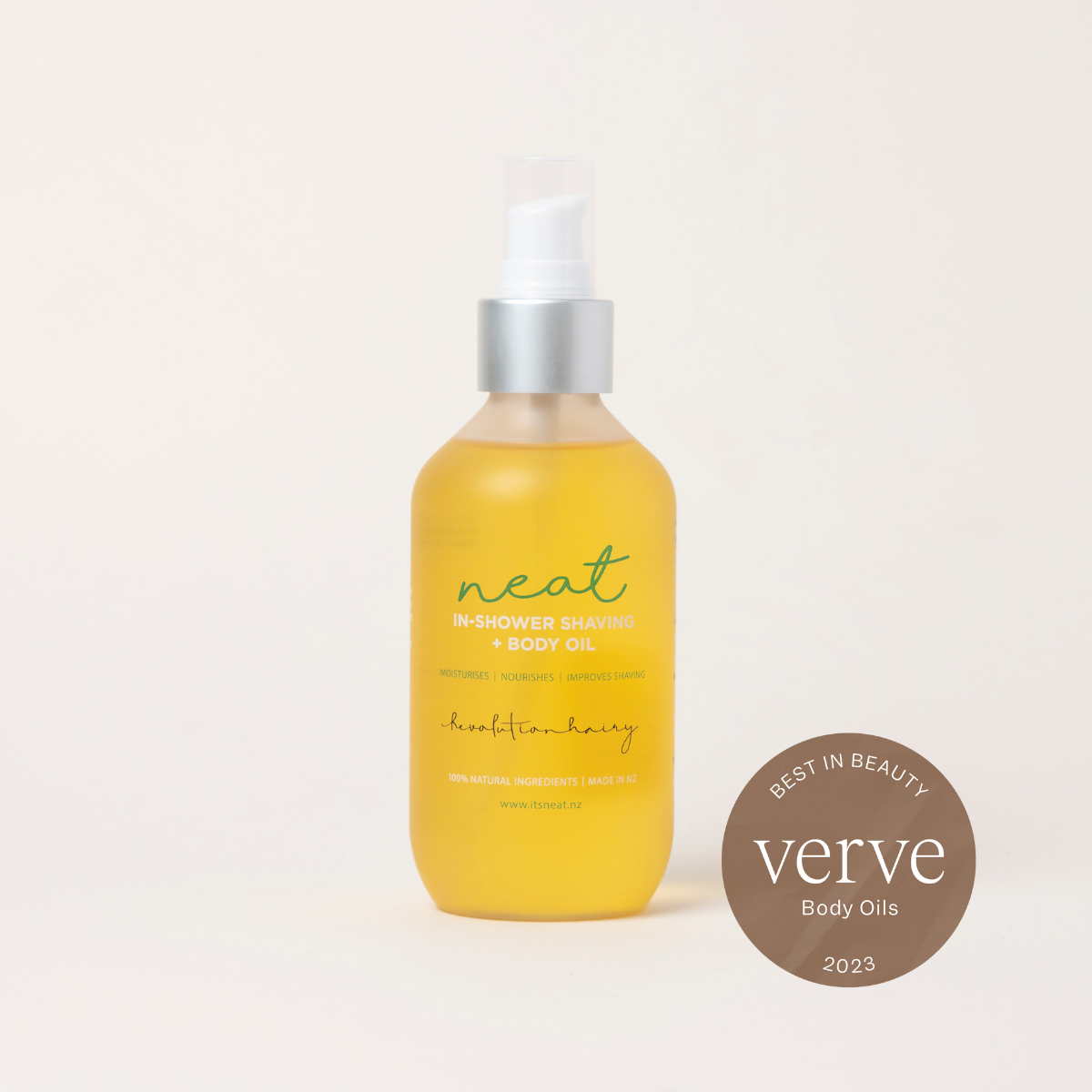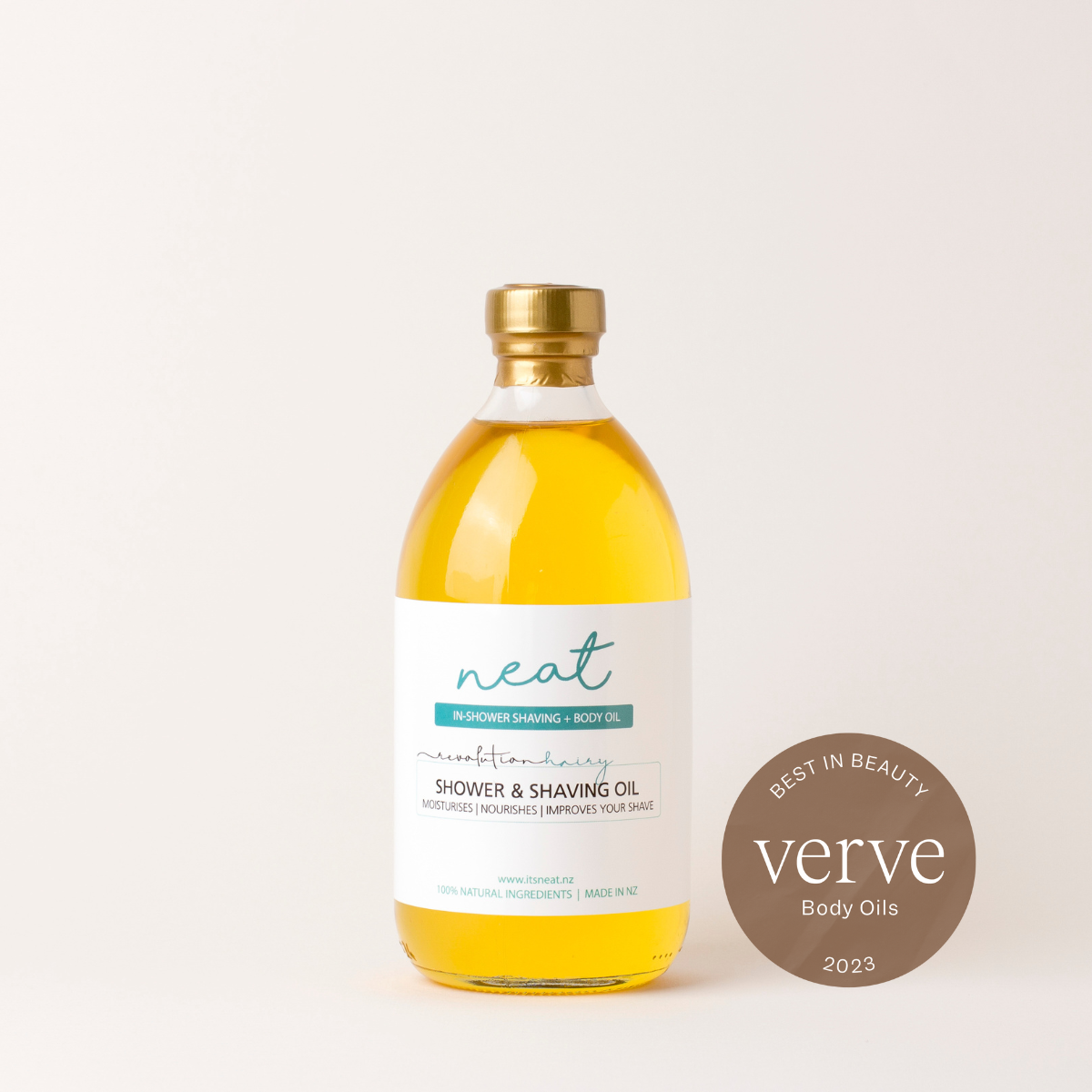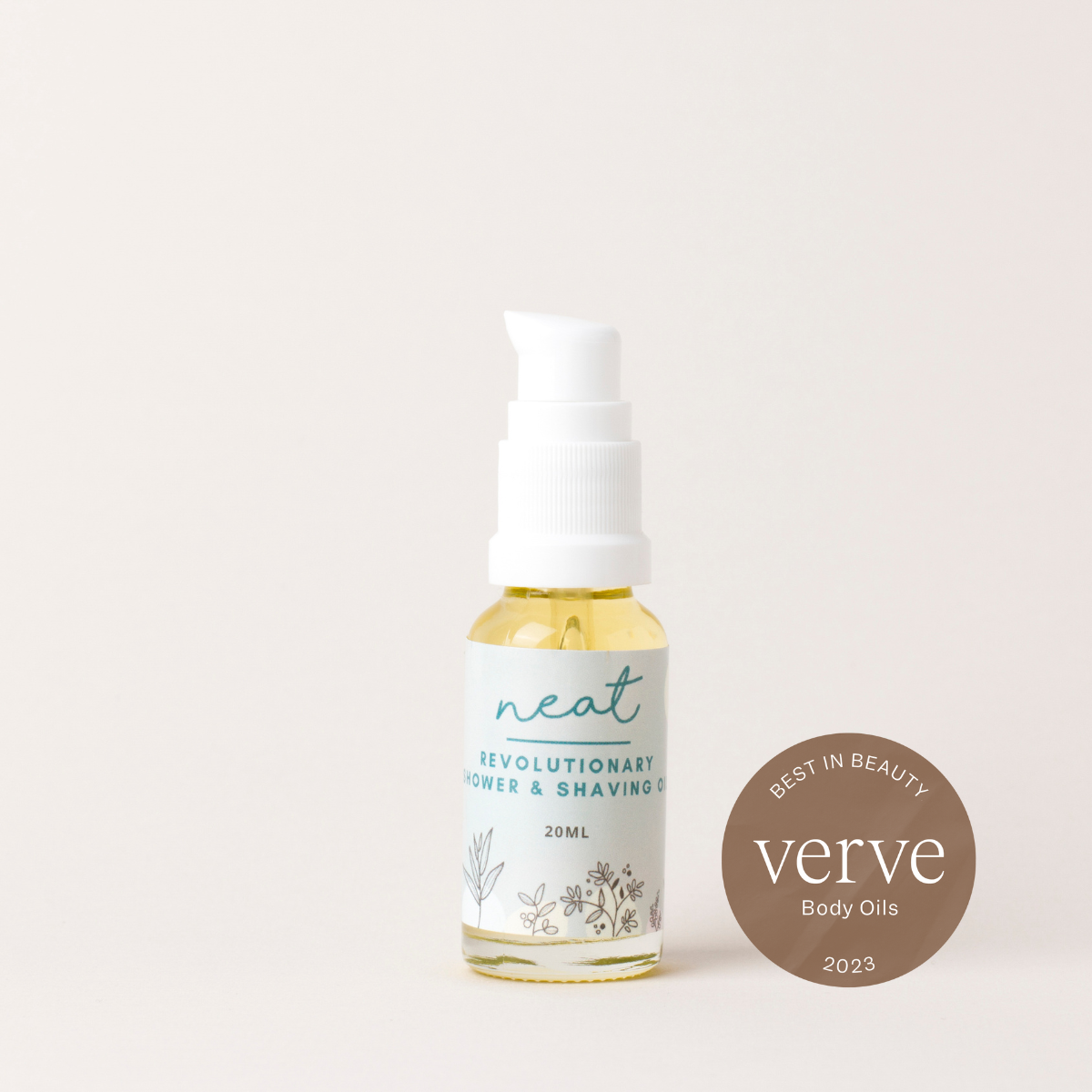 Say Goodbye to Red Bumps, Rashes, & Irritated Skin
Our Shower & Shaving Oil will change the way you shave! It will reduce redness, prevent rashiness, and improve the appearance of skin while not clogging pores, making it a great option for anyone – men, women, and teens!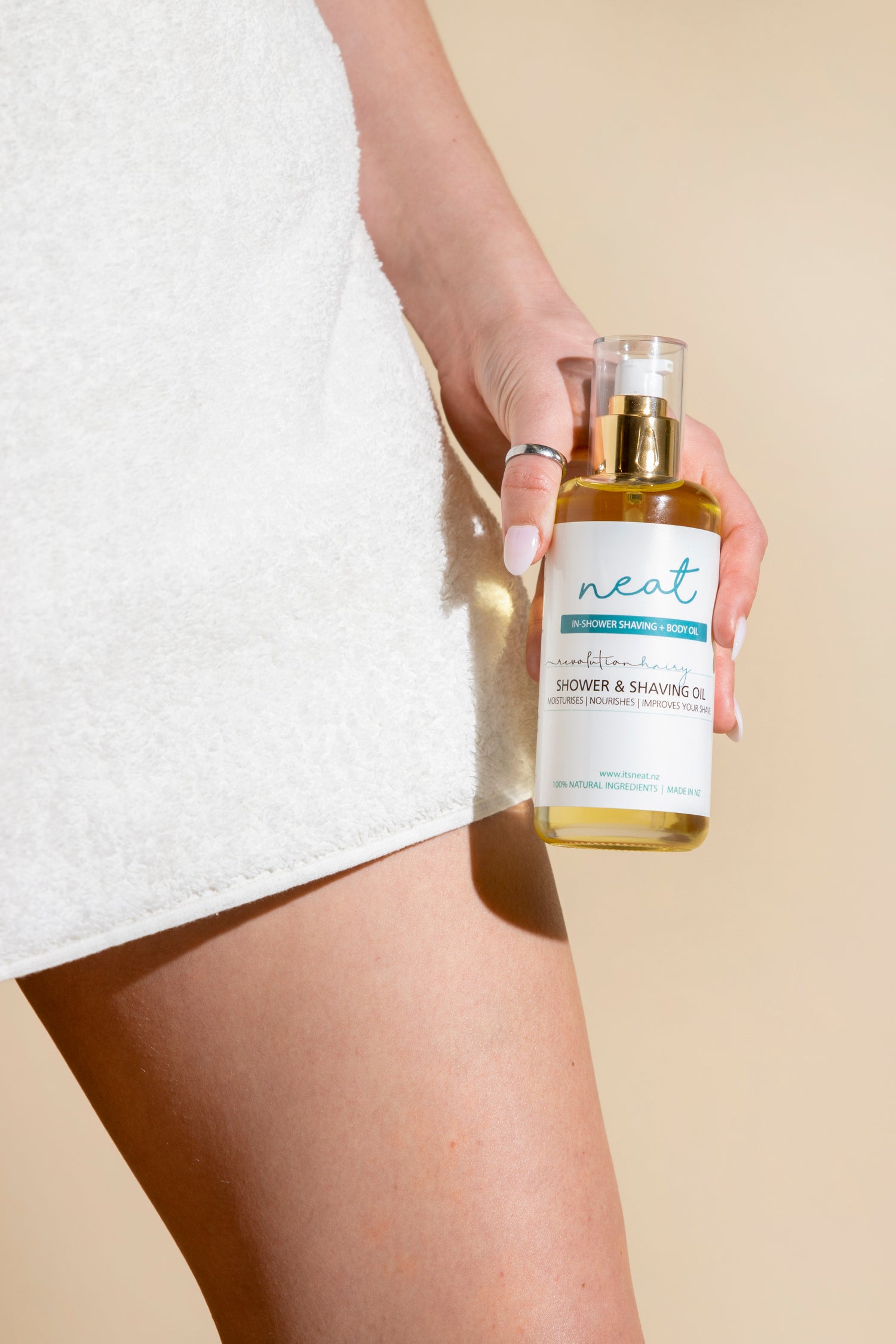 Forget What You Know About Soaps, Foams, & Shaving Gels
Soap can be drying, so we've carefully selected oils and combined them for their naturally beneficial properties, including those with high levels of Vitamins E & A, oils to heal and protect the skin, and oils to prevent bacterial growth within the hair follicle.

The refreshing scent of orange is uplifting and nourishing for the skin, aiding the repair of damaged skin cells and promoting collagen reproduction – all things essential for beautiful healthy skin!
Buy Now
Join the Revolution, Here's How to Shave:
Briefly step away from splashing /running water to apply the oil to the area you wish to shave. Pour a 10cent piece size puddle of shaving oil into your hand, rub together and apply oil to the area you wish to shave, massage in, and then shave as normal!

Or simply finish your shower with some oil all over before a quick rinse, and towel down – leaving you feeling moisturised for hours after you shower!

Top Tips for a Smooth Shave:
- Ensure skin is wet and warm before starting, cold skin will knick fast!
- Make sure the area you're shaving feels oily to touch once the oil is applied - if it's not a bit slippery you may need more oil.
- Don't shave on dry skin, always use water
- Use a clean and sharp razor

Buy Now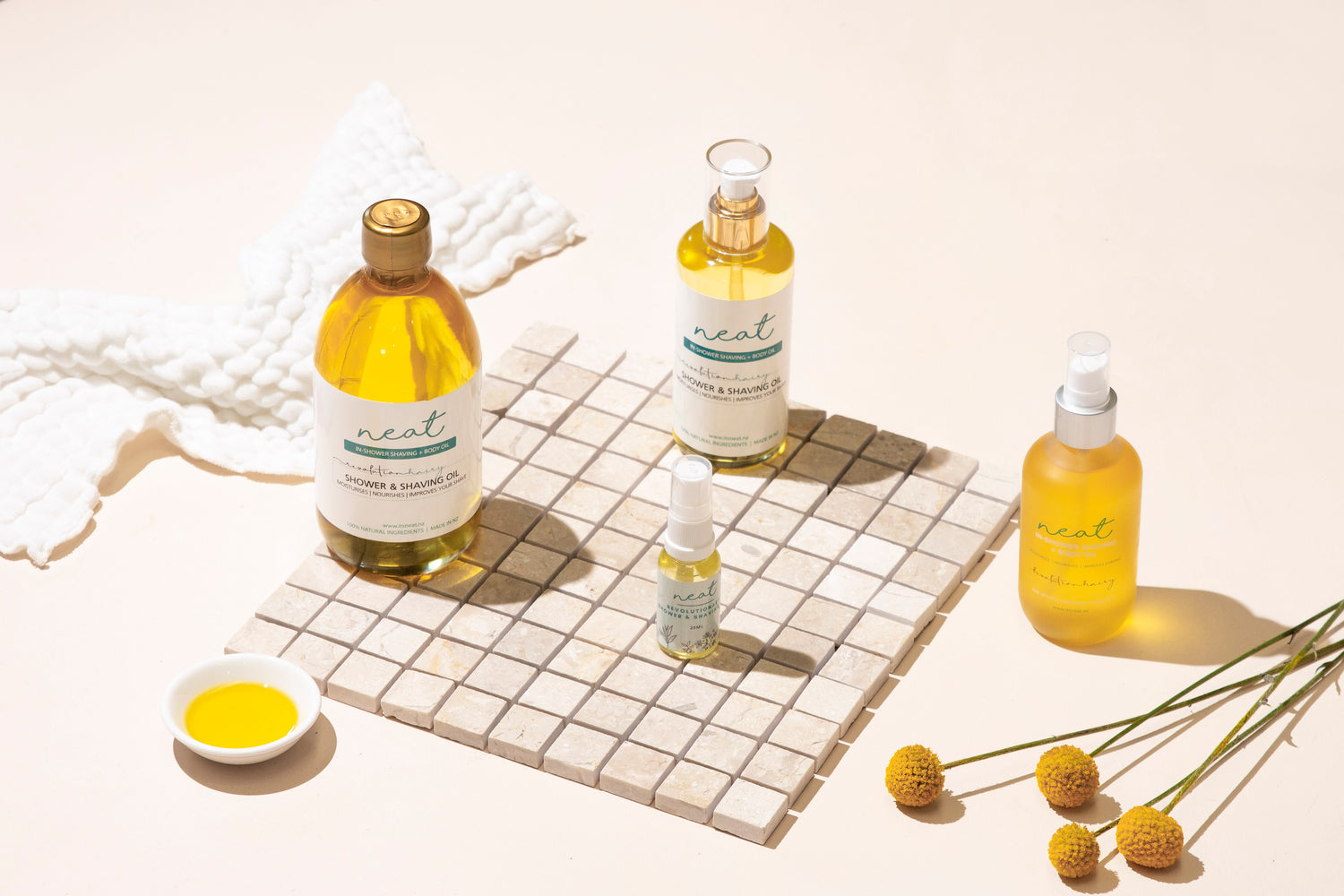 Skeptical? It's Okay We've Heard That Before
We've got something for everyone. From a trial size for tenative newbies to refill bottles for die-hard fans.

PACKAGING OPTIONS:
- Sample Mini 20ml Glass Pump Bottle (great for travel, or a night away too!)
- 200ml Glass OR Plastic Lotion Pump,
- 500ml Glass Refill Bottle with screw lid (NO PUMP)

Buying the 500ml Glass pump bottle, saves you a whopping $10!! Note this option does not come with a pump as it's for refilling a 200ml bottle (these have a more efficient pump on them to ensure you don't unnecessarily over-use/waste product - the larger pumps that used to come with the 500ml bottle pump out too much product and you'd use it faster than necessary)

Purchase our skincare oil trial set - or our trial body set to try before you buy, and save!
Buy Now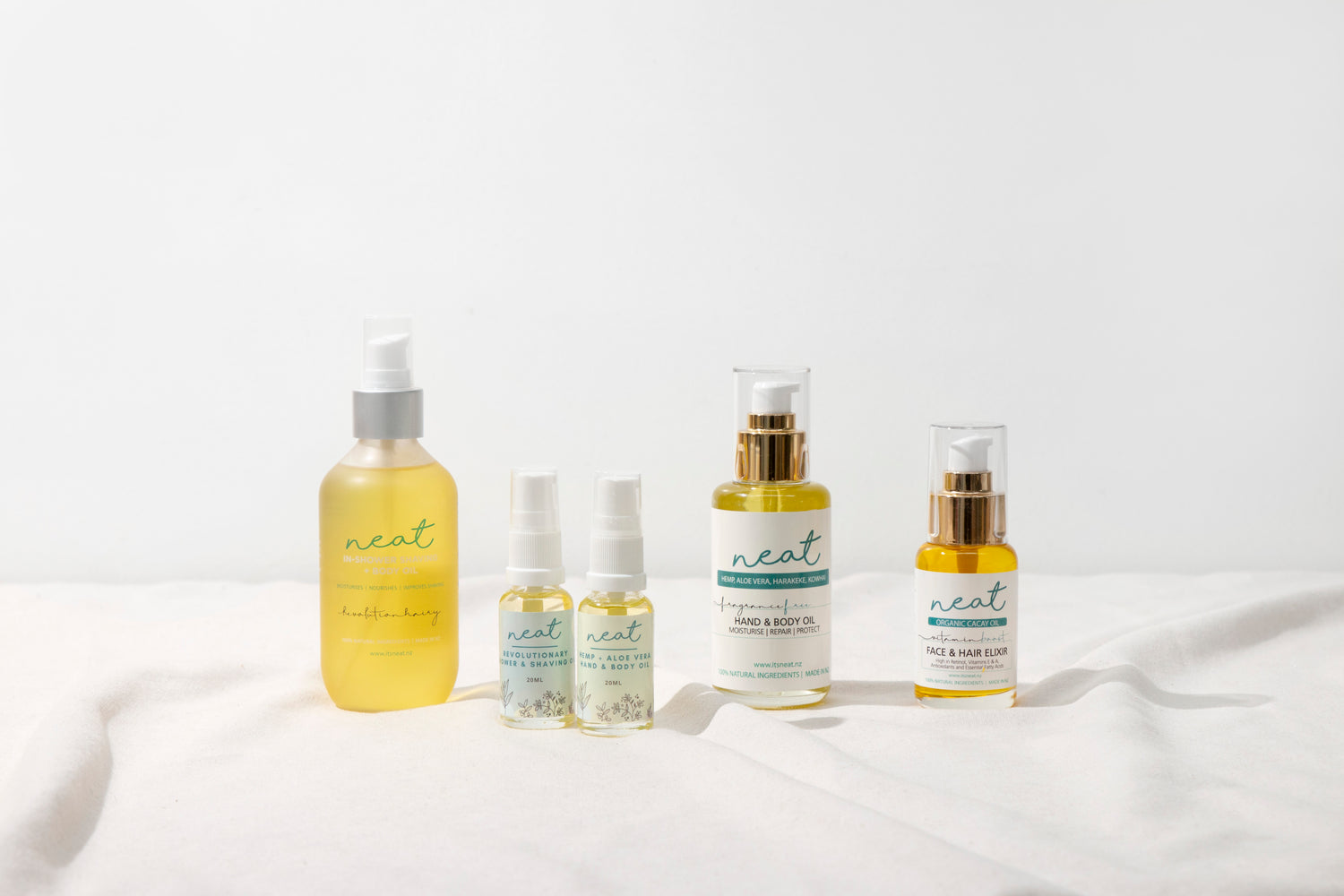 Mini Body Duo Skincare Sample | Travel Set - 100% Natural
Regular price

Sale price

$24.00
Quick view

Hempseed and Aloe Vera Body Oil with Harakeke and Kowhai

Regular price

$14.00 $39.00

Regular price

Sale price

$14.00 $39.00
Quick view

Organic Cacay Face and Hair Oil - 100% Natural

Regular price

$15.00 $44.00

Regular price

Sale price

$15.00 $44.00
Quick view

Revolutionary Shower and Shaving Oil - 100% Natural

Regular price

$12.00 $60.00

Regular price

Sale price

$12.00 $60.00
Like A Fine Wine
Pairs Well With