The Terms
NEAT TERMS AND CONDITIONS 
1 APPLICATION OF TERMS
1.1 These Terms apply to your use of the Website and purchase of our Products. By accessing and using the Website and/or purchasing our Products:
a. you agree to these Terms; and
b. where your access and use is on behalf of another person (e.g. a company), you confirm that you are authorised to, and do in fact, agree to these Terms on that person's behalf and that, by agreeing to these Terms on that person's behalf, that person is bound by these Terms.
1.2 If you do not agree to these Terms, you are not authorised to access and use the Website or purchase our Products, and you must immediately stop doing so.
2 CHANGES
2.1 We may change these Terms at any time by updating them on the Website. Unless stated otherwise, any change takes effect immediately. You are responsible for ensuring you are familiar with the latest Terms. By continuing to access and use the Website and/or purchasing our Products, you agree to be bound by the changed Terms.
2.2 We may change, suspend, discontinue, or restrict access to, the Website without notice or liability.
3 DEFINITIONS
In these Terms:
CGA means the New Zealand Consumer Guarantees Act 1993 including and similar words do not imply any limit Loss includes loss of profits, savings, revenue or data, and any other claim, damage, demand, loss, liability, proceeding and cost, including legal costs on a solicitor and own client basis personal information means information about an identifiable living person Product means any item displayed on the Website available for purchase Promotions Policy means the prevailing policy relating to promotions of Products and/or Subscriptions to Neat as published on the Website Terms means these terms and conditions titled
Underlying System means any network, system, software, data or material that underlies or is connected to the Website
User ID means a unique name and/or password allocated to you to allow you to access certain parts of the Website
Neat, we, us or our means Motley Creative Limited, trading as Neat
Website means https://www.itsneat.nz/
You means you or, if clause 1.1b applies, both you and the other person on whose behalf you are acting.
4 YOUR OBLIGATIONS
4.1 You must provide true, current and complete information in your dealings with us (including when setting up an account), and must promptly update that information as required so that the information remains true, current and complete.
4.2 If you are given a User ID, you must keep your User ID secure and:
a. not permit any other person to use your User ID, including not disclosing or providing it to any other person; and
b. immediately notify us if you become aware of any disclosure or unauthorised use of your User ID, by sending an email to neat@itsneat.nz
4.3 You must:
a. not act in a way, or use or introduce anything (including any virus, worm, Trojan horse, timebomb, keystroke logger, spyware or other similar feature) that in any way compromises, or may compromise, the Website or any Underlying System, or otherwise attempt to damage or interfere with the Website or any Underlying System; and
b. unless with our agreement, access the Website via standard web browsers only and not by any other method. Other methods include scraping, deep-linking, harvesting, data mining, use of a robot or spider, automation, or any similar data gathering, extraction or monitoring method.
4.4 You must obtain our written permission to establish a link to our Website. If you wish to do so, email your request to neat@itsneat.nz
4.5 You indemnify, hold harmless and defend us against all Loss you suffer or incur as a direct or indirect result of your failure to comply with or non-observance of these Terms or the documents they incorporate, including any failure of a person who accesses and uses our Website by using your User ID.
5 INTELLECTUAL PROPERTY
We (and our licensors) own all proprietary and intellectual property rights in the Website (including all information, copyright, trademarks, patents, design rights, data, text, graphics, artwork, photographs, logos, icons, sound recordings, videos and look and feel), and the Underlying Systems.
6 DISCLAIMERS
6.1 To the extent permitted by law, we and our licensors have no liability or responsibility to you or any other person for any Loss in connection with:
a. the Website being unavailable (in whole or in part) or performing slowly;
b. any error or inaccuracy in, or omission from, any information, descriptions, pricing, promotions, offers, product shipping charges, transit times made available through the Website;
c. any exposure to viruses or other forms of interference which may damage your computer system or expose you to fraud when you access or use the Website. To avoid doubt, you are responsible for ensuring the process by which you access and use the Website protects you from this; and
d. any site linked from the Website. Any link on the Website to other sites does not imply any endorsement, approval or recommendation of, or responsibility for, those sites or their contents, operations, products or operators.
6.2 We make no representation or warranty that the Website is appropriate or available for use in all countries or that the content satisfies the laws of all countries. You are responsible for ensuring that your access to and use of the Website is not illegal or prohibited, and for your own compliance with applicable local laws.
6.3 We reserve the right to correct any errors, inaccuracies or omissions and to change or update information or cancel orders if any information on the product or any related website is inaccurate at any time without prior notice (including after you have submitted your order.
7 WARRANTIES AND LIABILITY
7.1 Except as expressly stated in these Terms, Neat makes no warranty or representation as to the merchantability, fitness for a particular purpose, suitability or efficacy of any Product beyond any manufacturer warranty included with the Product. Nothing in the former statement modifies, negates or restricts a consumer's rights and remedies under the CGA.
a. Subject to your rights and remedies under the CGA, to the fullest extent permitted by law you access and use the Website at your own risk; and
b. Neat will not be liable for any loss under or in connection with these Terms, our Products supplied, offered to be supplied or advertised or accessed through the Website, the Website, or your access and use of (or inability to access or use) the Website and the information, advice, opinion, representation or omission supplied. This exclusion applies regardless of whether our liability or responsibility arises in contract, tort (including negligence), equity, breach of statutory duty, or otherwise.
7.2 Except to the extent permitted by law, nothing in these Terms has the effect of contracting out of the CGA or any other consumer protection law that cannot be excluded. To the extent our liability cannot be excluded but can be limited, our liability is limited to the amount paid by you to Neat in respect of the Product purchased excluding any amount paid for delivery.
7.3 To the maximum extent permitted by law and only to the extent clauses 7.1 and 7.2 of these Terms do not apply, our total liability to you under or in connection with these Terms, the purchase of our Products or in connection with the Website or your access and use of (or inability to access or use) the Website, must not exceed NZD100.
8 RETURN OR REFUND OF PRODUCTS
8.1 We will not offer refunds or returns on our Products except as required under the CGA.
8.2 We will not offer a refund or return on a Product if it is ordered incorrectly or not suitable for you.
8.3 If a refund is requested in accordance with the CGA on a Product that has been used, we may only offer a partial refund, at our sole discretion.
8.4 If a refund is requested in accordance with the CGA and we refund you, we reserve the right to charge you a re-stocking fee.
8.5 We will not refund shipping fees.
8.6 We may charge additional fees for redelivery
8.7 We may require photos or the return of damaged or faulty products for investigation.
9 PRIVACY POLICY
9.1 You are not required to provide personal information to us, although in some cases if you choose not to do so then we will be unable to make certain sections of the Website available to you. For example, we need to have your personal information to process payment and to deliver Products.
9.2 When you provide personal information to us, we will comply with the New Zealand Privacy Act 2020.
9.3 The personal information you provide to us (including any information provided if you register for an account) is collected and may be used for communicating with you, delivering Products to you, authorising and processing credit card transactions and collecting money, improving the Products we provide to you, statistical analysis, the marketing by us of our Products to you, credit checks (if necessary), and research and development.
9.4 We may also collect technical information whenever you log on to, or visit the public version of, our Website. This may include information about the way users arrive at, browse through and interact with our Website. We may collect this type of technical information through the use of cookies and other means. Cookies are alphanumeric identifiers that we transfer to your computer's hard drive to enable our systems to recognise your browser. If you want to disable cookies, you may do so by changing the settings on your browser. However, if you do so, you may not be able to use all of the functions on the Website. We use the technical information we collect to have a better understanding of the way people use our Website, to improve the way it works and to personalise it to be more relevant and useful to your particular needs. We may also use this information to assist in making any advertising we display on the Website more personalised and applicable to your interests.
9.5 Generally, we do not disclose personal information to third parties for them to use for their own purposes. However, some of the circumstances in which we may do this are:
a. to service providers and other persons working with us to make the Website available or improve or develop its functionality (e.g. we may use a third party supplier to host the Website);
b. in relation to the proposed purchase or acquisition of our business or assets; or
c. where required by applicable law or any court, or in response to a legitimate request by a law enforcement agency.
9.6 Any personal information you provide to us may be stored on the secure servers of our trusted service providers, which may be located outside New Zealand. This may involve the transfer of your personal information to countries which have less legal protection for personal information than New Zealand.
9.7 You have the right to request access to and correction of any of the personal information we hold about you. If you would like to exercise these rights, please email us at neat@itsneat.nz.
10 SUSPENSION AND TERMINATION
10.1 Without prejudice to any other right or remedy available to us, if we consider that you have breached these Terms or we otherwise consider it appropriate, we may immediately, and without notice, suspend or terminate your access to the Website (or any part of it).
10.2 On suspension or termination, you must immediately cease using the Website and must not attempt to gain further access.
11 MODIFICATION TO PRODUCTS AND PRICES
11.1 Neat reserves the right to change the price of any Product without notice and modify or discontinue any Product (or any part thereof) without notice at any time.
12 TITLE AND RISK
12.1 Risk of damage to or loss of the Products shall pass to you at the time of delivery, or, if you wrongfully fail to take delivery of the Products, at the time when Neat has tendered delivery of the Products.
12.2 Notwithstanding delivery and the passing of risk in the Products or any other terms in these Terms and Conditions, the property in the Products shall not pass to you until Neat has received in cash or cleared funds payment in full.
12.3 Until such time as the property in the Products passes to you (and provided the products are still in existence), Neat shall be entitled at any time to demand you to deliver the Products to Neat and in the event of non-compliance, Neat reserves its right to take legal action against you for the delivery of the Products and also reserves its right to seek damages and all other costs related to the recovery.
13 FORCE MAJEURE
13.1 Neat shall not be responsible for any delay, suspension or failure arising out of any circumstances outside of our reasonable control, including acts of God, governmental actions, including any government imposed shutdown or closure, a change in applicable law, riots, vandalism, strikes, lockouts or other labour difficulty, war or national emergency, pandemic, epidemic, quarantine or other widespread or serious threat to human health (including an outbreak or recurrence), acts of terrorism, fire, explosion, flood or other natural disaster, an act or omission of a third party, inability to obtain any necessary materials, equipment, facilities or services, the failure of performance provided by others, internet interruption or virus, accidents or breakdown of plant, machinery, software, hardware or communication network and failure or shortage of power supplies or other essential utility.
14 SEVERABILITY
14.1 If any clause no longer applies or is held to be invalid, unenforceable or unreasonable by a Court of competent jurisdiction, the validity and enforceability of the remaining clauses or portions of such clauses of this agreement shall not be adversely affected and the offending provisions shall be read down to the extent necessary to give it legal effect.
15 ENTIRE AGREEMENT
15.1 The terms and conditions set out in this agreement are the entire terms and conditions between you and Neat and supersede and replace any previous written and verbal agreements.
16 NO WAIVER
16.1 Neat's failure to enforce these Terms shall not constitute a waiver of these Terms, and such failure shall not affect the right later to enforce these Terms. We will still be entitled to our rights and seek remedies in any other situation where you breach these Terms. For us to waive a right under these Terms, the waiver must be in writing.
17 ORDERS
17.1 We reserve the right to:
a. reject your order at our discretion, including but not limited to when we are unable to obtain authorisation for payment or the Product is unavailable or as otherwise contemplated in the Terms; and
b. restrict or limit the quantity of a particular Product being shipped to any one customer or postal address.
18 SUBSCRIPTIONS AND PROMOTIONS
18.1 By subscribing to Neat, you agree to these Terms. If you do not agree to these Terms, you may not subscribe with Neat.
18.2 We may offer promotions from time to time. By agreeing to these Terms you agree to our Promotions Policy. Neat reserves the right to amend the Promotions Policy at any time, without notice.
19 GENERAL
19.1 If we need to contact you, we may do so by email or by posting a notice on the Website. You agree that this satisfies all legal requirements in relation to written communications.
19.2 These Terms, and any dispute relating to these Terms or the Website, are governed by and must be interpreted in accordance with the laws of New Zealand. Each party submits to the non-exclusive jurisdiction of the Courts of New Zealand in relation to any dispute connected with these Terms, any Product or the Website.
19.3 Clauses which, by their nature, are intended to survive termination of these Terms continue in force.
__________________________________________
NEAT PROMOTIONS AND SUBSCRIPTIONS POLICY
1. GENERAL
1.1. Neat reserves the right to cancel or change any promotional codes.
1.2. All promotional codes must be entered at the checkout prior to processing payment.
1.3. Unless the promotional code is only available for a limited time, you may use a promotional code on any single order.
1.4. Only one promotional code may be applied to any single order, unless otherwise stated.
1.5. Promotional codes may not be applied to subscription orders, unless otherwise stated.
1.6. Promotional codes may only be applied at https://www.itsneat.nz/ online store.
1.7. Promotional codes with a limited time period may only be applied within the specified time period.
1.8. Free shipping offers apply only to orders to be delivered within New Zealand over the value of $100 NZD.
1.9. Promotional codes may not be applied by wholesalers/stockists.
1.10. A specified minimum purchase amount does not include shipping fees.
1.11. Promotional codes are only available while stock lasts.
2. HOW TO ENTER A PROMOTIONAL CODE
2.1. Add items into your cart.
2.2. Proceed to the checkout.
2.3. On the 'Information' section of the checkout find the 'Gift card or discount code' box
2.4. Enter the code provided into the box and click 'Apply'.
2.5. Your total cart value will change according to the promotional code applied.
2.6. Note: If the item is a free gift with purchase, you will need to add the free gift to your cart to apply the promo code.
3. PROMOTIONS FOR SUBSCRIPTIONS
3.1. All subscribers to Neat will receive 10% off skincare and 15% off supplements on all orders.
3.2. Promotional codes cannot be used in conjunction with subscription orders.
3.3. Subscriptions are only available to New Zealand customers.
4. BUY 1 GET 1 HALF PRICE PROMOTION
4.1. Applies only to full sized items.
4.2. Excludes products under subscription, bundles, gift cards and already discounted items.
4.3. The lowest priced item in the order will be discounted by 50%.
4.4. Promotional code must be entered at checkout prior to payment for the discount to be applied.
5. BUY 2 GET 1 FREE
5.1. Applies only to full sized items.
5.2. Excludes products under subscription, bundles, gift cards and already discounted items.
5.3. Strictly one free item per customer.
5.4. The lowest priced item in the order of at least 3 will be free.
5.5. Promotional code must be entered at checkout prior to payment for the discount to be applied.
6. GIFT WITH PURCHASE
6.1. Free gift applies with qualifying amount purchase only.
6.2. Strictly one free gift per customer.
6.3. Excludes Neat subscriptions, discounted items and gift cards.
6.4. Free item must be added to order to be included.
6.5. Promotional code must be entered at checkout.
7. GIFT CARDS
7.1. Gift cards are non-refundable.
7.2. May not be applicable to shipping charges.
7.3. Neat does not hold gift card codes.
7.4. Gift card code must be entered at checkout.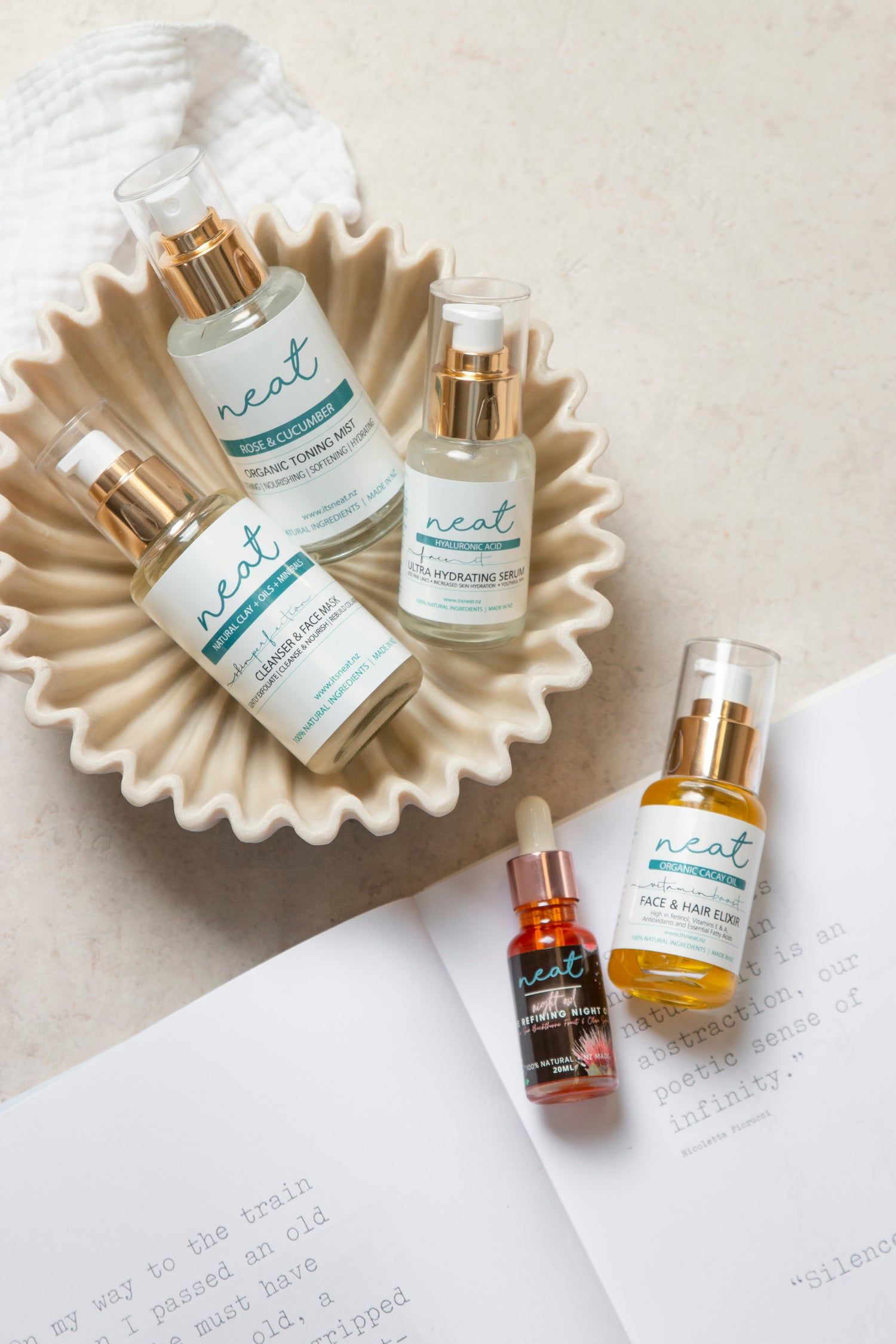 Never Run Out Again
Say hello to convenience and savings! Neat's brand-new subscription system is here, allowing you to get your favourite skincare and supplements auto-shipped to your doorstep at a discounted price.  Save 10% on skincare and 15% on supplements every time. It's the ultimate hassle-free way to lock in your beauty and wellness routine!
SHOP NOW