The Thorn Razor - Sustainable Single Blade Razor
Regular price

$140.00

Sale price

$120.00
Helps With:
Preventing Nicks | Preventing Cuts | Preventing Ingrown Hairs
The Thorn Razor isn't any old safety razor - it's sleek, solid, and it's built for your face. This thing is no joke, it'll handle a week's worth of the toughest hair and leaves perfectly smooth and satisfied skin behind. *** ONCE STOCK IS SOLD - WE WILL NOT BE RE-STOCKING THESE PRODUCTS SO GET THEM WHILE THEY LAST!! ***
Ingredients

What's Included with a razor purchase:

The Thorn razor (1x) and matching stand (1x)
5-blade starter pack (1x)
Plastic-Free Packaging

All-metal razor, built to last.
Shipping Information

New Zealand shipping is FREE when you spend over $100, otherwise it is just $8.50 for a flat rate nationwide tracked courier.
Hurry, only 1 item left in stock!
Share
Warning, this razor is so good that you may never buy another razor again.
• Intuitive Angle™ Head mimics the ease of your plastic razors.
• A back-weighted handle means more control at the point of shave.
• Magnetic Load Assist™ tames even the shakiest of hands.
• Twist Body™ is an innovative loading mechanism that raises and lowers the head, keeping the razor in one piece.
• Compatible with any standard safety razor blade including DE blades.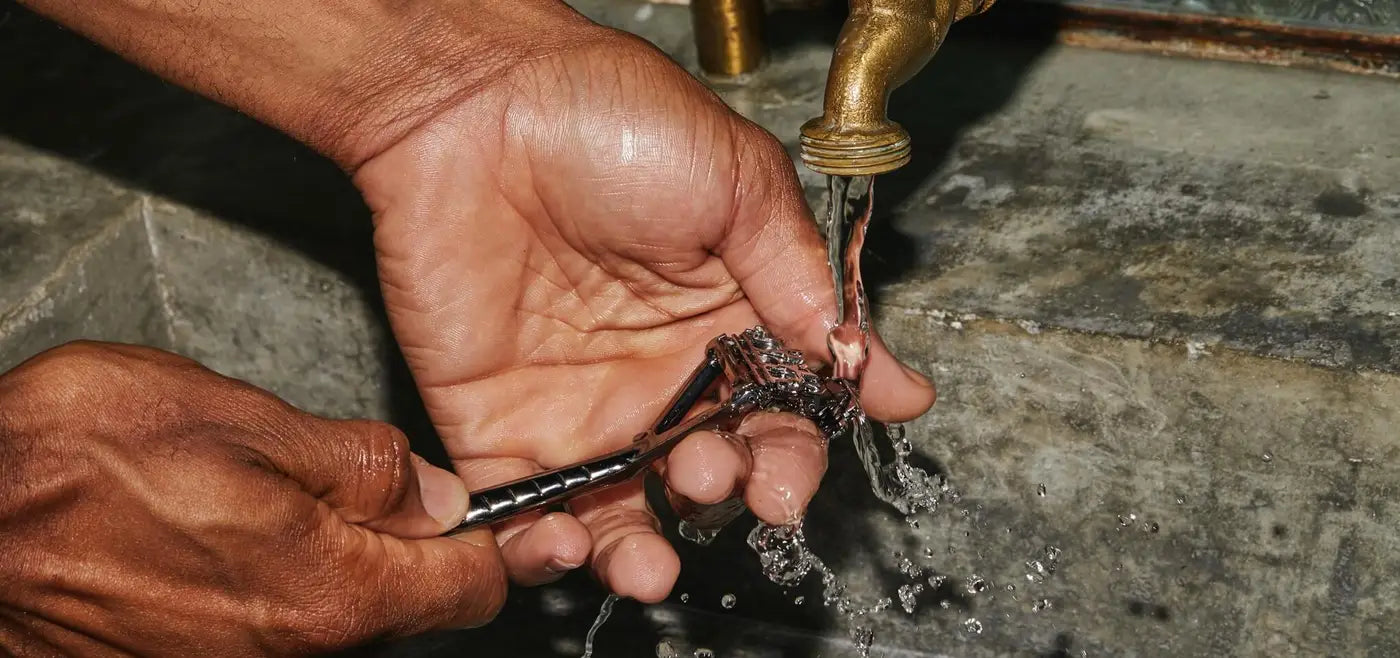 Nicks, Irritation, & Disposable Razors Are So Yesterday
All of this means you can shave without nicks, cuts, or irritation. Ingrown hairs are a thing of the past.

An all-metal razor built to last. The Thorn razor is one of the most capable modern safety razors for face and head shaving. It's unique single-blade design, including the unibody twist-to-open mechanism and how we've engineered the blade to present to your skin, make it the ideal middle-ground between classic safety razors and disposable cartridges.
Buy Now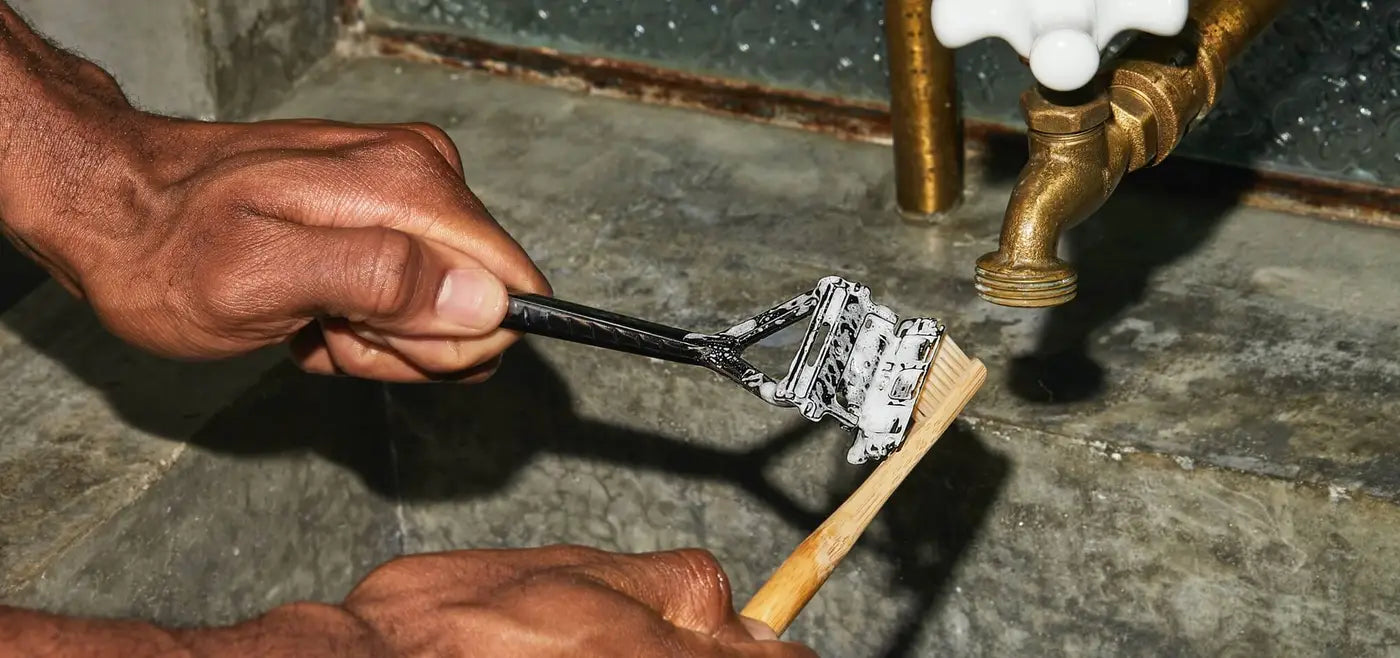 Is this a fit for me?
If you are looking to ditch the plastic and start shaving with a single-edge razor, The Thorn is for you. An open-blade systems means you can use any standard safety razor blade with The Thorn, you have more options than any other safety razor out there. That's truly freedom. If you currently shave with a DE razor and are looking for something different and exciting, you will LOVE The Thorn.
Buy Now
How to Enjoy Your Shave & Use Your Razor
How to Enjoy Your Shave:
Pair with Neat's Revolutionary Shower & Shaving Oil.
Don't apply any extra pressure, let the weight of the razor do the work (don't press hard!).
Rinse the razor frequently with warm water—the razor and skin should always be damp.
Feel your skin to find places you may have missed and go over them again. For even closer results, repeat the process shaving against the natural direction of hair growth.

How to Load Your Razor:
Open the razor by twisting the bottom of the handle clockwise until the top lifts and twists out of the way.
Load a single-edge blade into your Twig safety razor making sure to line up the notches on the sides of the blade with the mating feature on the blade holder. It should sit flat!
Secure the The Twig razor closed by twisting the bottom of the handle counterclockwise until finger-tight.
Care Instructions:

The Thorn Razor is built to last. And as long as you care for the razor, it will care for you. Here are a few overall guidelines that you can follow:

How long do the blades last?
This can vary person-to-person; the best thing to do is swap your blades when you feel them starting to dull. On average you can expect 8 to 12 shaves. Some may swap every week, others every 3 months - so learn how it works for you.

Periodic Maintenance
Once a month, or as needed, perform a deep clean. Keep an old toothbrush handy and with a small amount of dish soap, scrub up some bubbly and clean out the nooks and crannies. For a finishing touch, try a dip in rubbing alcohol to disinfect and wick away the moisture from the cleaning.

Day To Day Care
Give your razor a thorough rinse after each use. Ideally, open the head up and rinse any residual soap or hair from inside the razor and blades. Keep stored in a dry place. If you are going to store it in the shower, at least make sure it's not directly under running water.

Deep Clean
If you find that your razor has tough soap residue or hard water stains: prepare a bath for the razor made up of 1 part vinegar, 1 part water. Let the razor soak for 10 minutes. The vinegar will break down mineralized water and soap residue. Following the bath, scrub the razor as described above, and buff with a soft cloth or towel.

Care for your razor. A few tips for keeping the Thorn in tip-top shape.
Open up your razor and rinse it thoroughly inside and out after each use. Rinse and dry the blades (or allow them to dry) before re-loading. Store in a cool, dry place.
If your razor needs a deeper cleaning (maybe once a month), use a drop of dish soap and a soft brush, like an old toothbrush, and scrub the nooks and crannies.
For tougher build-ups or hard water marks, soak your razor in a solution of 1 part white vinegar and 2 parts water for up to 10 minutes, then scrub with a drop of dish soap and a soft brush before towel drying. Do not let the razor soak for an extended period of time.
Buy Now