Cacao | Pure Organic Ceremonial Grade Cacao by Cacaokeeper
Regular price

Sale price

$30.00
Helps With:
Cermonial | Connection to Self | Connection to Nature
We have a beautiful, rich and chocolatey Cacaokeeper Pure Organic Ceremonial Grade Cacao available for all your delicious cacao needs!
Ingredients
Shipping Information

New Zealand shipping is FREE when you spend over $100, otherwise it is just $8.50 for a flat rate nationwide tracked courier.
Hurry, only 1 item left in stock!
Share
Pure Organic Ceremonial Grade Cacao
This is our 100% Pure Ceremonial Grade Cacao, the real deal when it comes to cacao and her medicine. This is the solid form of certified organic cacao, before it is further refined and separated into cacao powder and cacao butter. It has the perfect (just as nature made it) ratio of all that cacao is.

Due to this purity, it creates a rich and creamy cacao, with only water needed (and a little sweetener if you want that). Intention is a big part of a home ceremony, so with each 300g bag you will receive an intention setting card to personalise and place on your altar (or anywhere special).

Solid 100% Cacao, blends to a creamy and rich cacao,c ertified Organic & Fair Trade, only water needed (and sweetener if desired), sustainable agriculture.
Sustainable Cacao Farming Practices
Each component of cacao is from the same farm in Northern Peru. This cacao is shade grown, and of the native strain criollo. What this means is that our cacao supports the restoration of native strains, and sustainable agricultural practices. 'Rescue Cacao' is another name for this source, as it too provides a substantial wage for families who tend to the cacao, thus keeping them from turning to monoculture farming or illegal crop farming just to make a decent wage.

We are proud of this, and each purchase contributes towards this positive impact. We believe all of our products and components of ceremonial cacao should be from the best source possible, and this is a priority! All of our cacao is shade grown in Northern Peru, and has taken a few years to find a source this great. Shade grown cacao is the natural habitat for cacao to be grown in (unlike monocropping where there is a whole field of cacao trees), it grows under the shade of other local fruits trees such as papaya and banana. This sustainable agriculture has also enabled the farmers to product great quality yield and restore the native strain of criollo cacao.

Another important factor for us, is the supply chain. We are two degrees of knowing the farmers who directly grow our cacao. Win win win! This type of dedication to our product sourcing enables us to be certain that each cup of cacao is supporting the expansion of not only ourself, but the collective, even each handler and farmer involved in producing the cacao or coconut sugar. Heavy metals are tested in our cacao and are below required safety specifications, including levels of cadmium. 300g home compostable bag - with a beautiful card to set your intention with!
Buy Now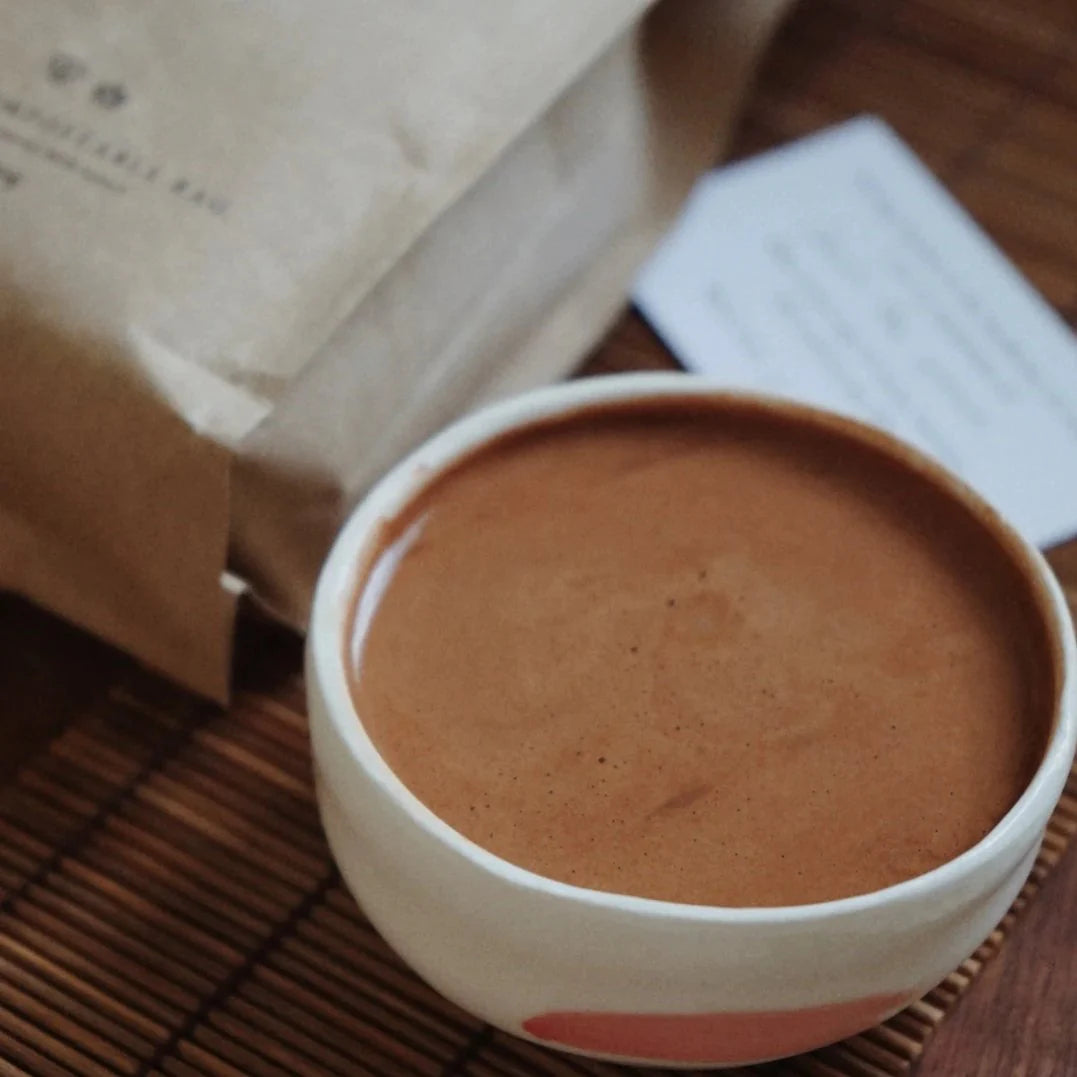 How to Use Cacao
Take your special cacao cup and measure out required water per serve (200ml)
Add water to a pot to warm
Grate off approx. 2 heaped tablespoons of cacao pure (per 200ml serve)
Blend together cacao pure and warm water, add sweetener/spice of your choice
Return to the pot to heat further Infuse your love
Enjoy
Buy Now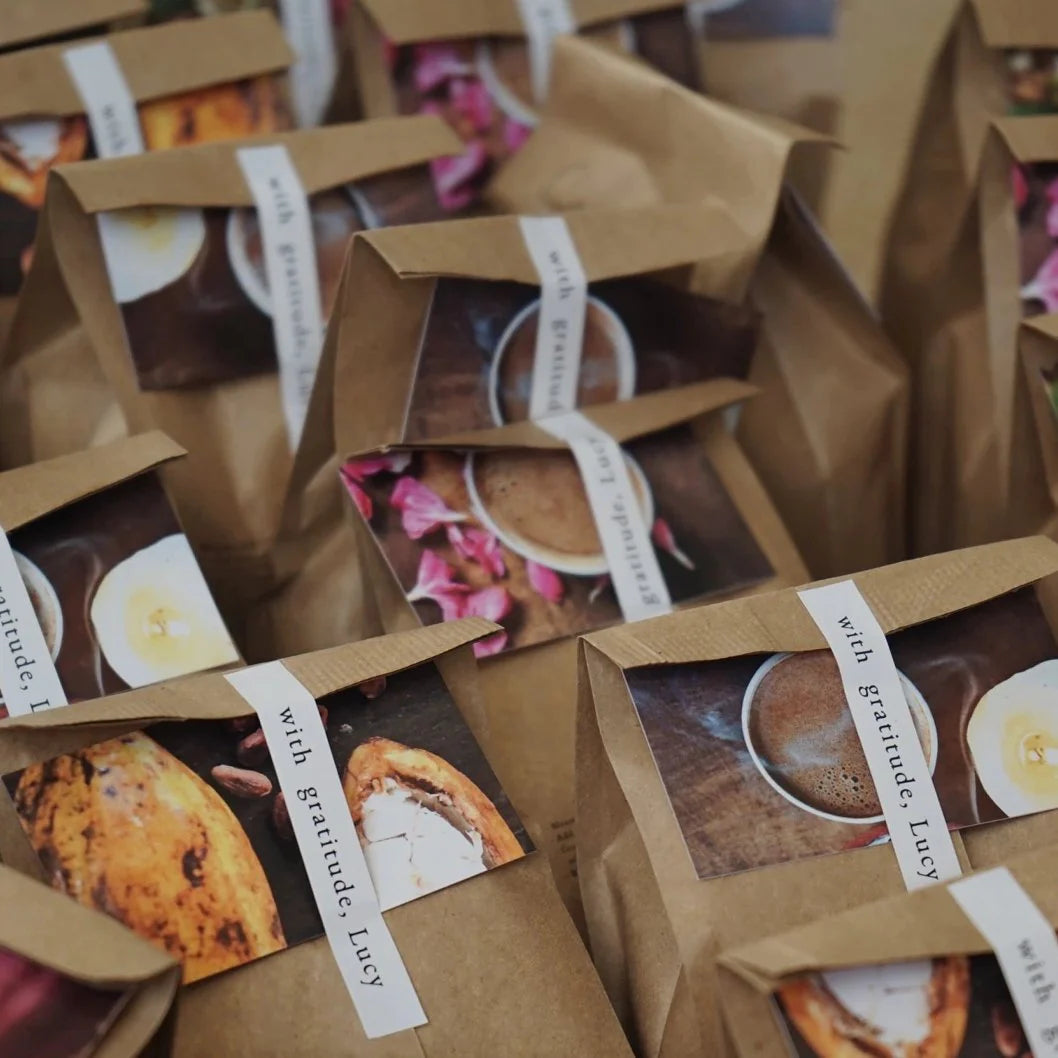 Frequently Asked Questions About Cacao
What is ceremonial cacao?
For us ceremonial cacao is about intention. Each component of this cacao has been a refinement over a few years. It is only now that we have a source of cacao and coconut sugar that is of full alignment with our beliefs of living in harmony with nature. This cacao is different than what would would pick up from your local shop, and that is due to a few things - the source of cacao, the intention for making the product in the first place, and the intended use of the product. Cacao Keeper intends that you will prepare, and drink your cacao as a time to deepen your connection to self, others and/or nature. This is you creating ceremony for yourself.

What do I need to prepare this cacao?

Fresh water
Heat source
Pot
Do I need to add milk?
No, only water is needed for a thick and creamy blend. This is part of keeping this cacao pure and ceremonial, is keeping all components as pure as possible.

How long will my Cacao Blend last for?
There is a long shelf life for this cacao, 1 year. We expect you will drink it all before it gets near going bad. Keep the package sealed tight or in a jar. If it is warm weather you may notice darker spots in the blend - this is perfectly normal - it is the small pieces of cacao butter melting at that temperature. It does not effect the shelf life of your cacao blend.
Buy Now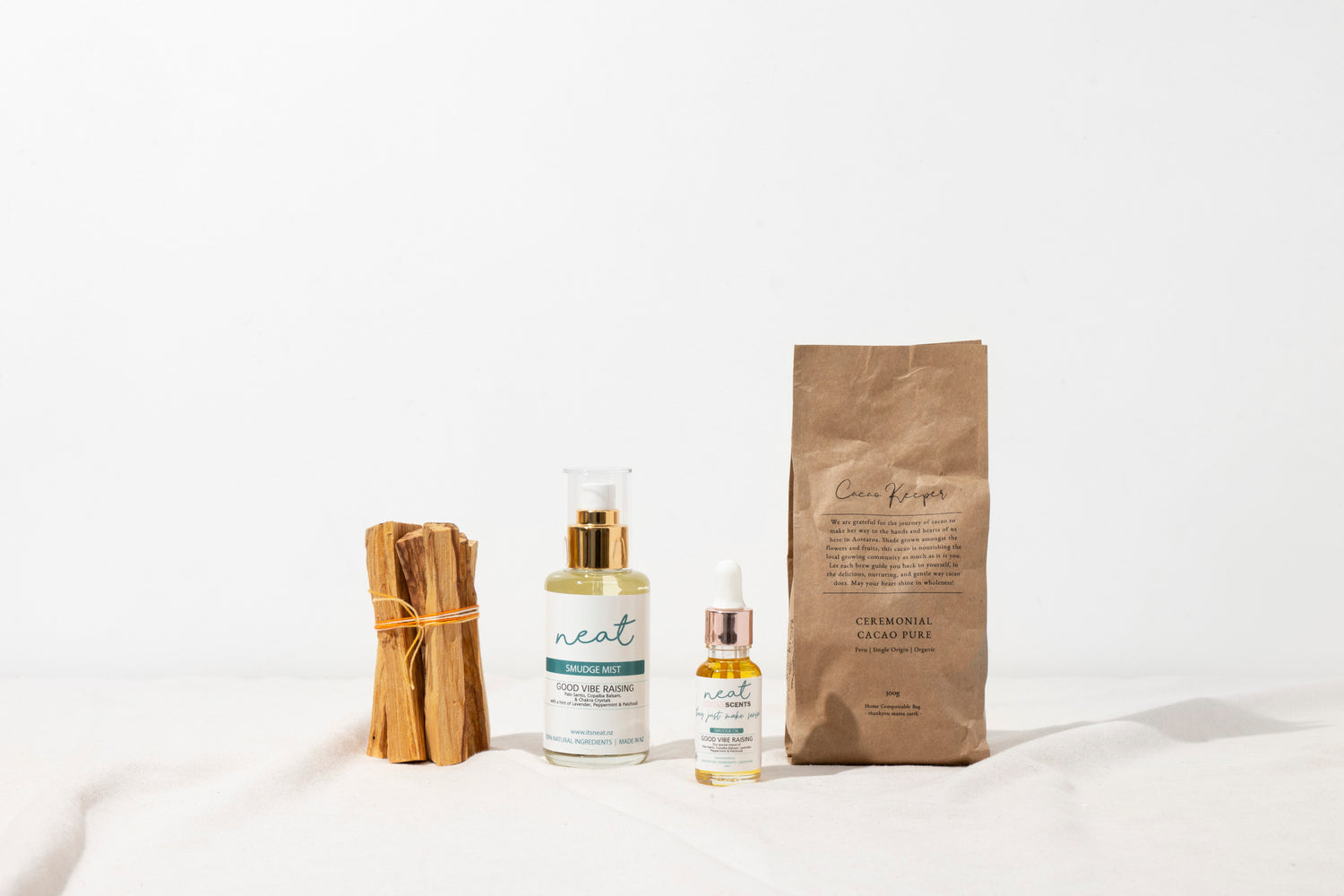 Palo Santo Smudge Sticks - 6 Pack - Ethically Sourced
Regular price

Sale price

$20.00
Quick view

Good Vibe Raising Palo Santo Smudge Mist

Regular price

$25.00 $45.00

Regular price

Sale price

$25.00 $45.00
Quick view

Good Vibe Raising Palo Santo Diffuser Oil

Regular price

Sale price

$32.00
Quick view

Cacao | Pure Organic Ceremonial Grade Cacao by Cacaokeeper

Regular price

$30.00 $95.00

Regular price

Sale price

$30.00 $95.00
Like A Fine Wine
Pairs Well With